Cellphone internet
I have been doing flood relief volunteer work all over Sindh, and below is a short writeup on the best internet solution I found. I was pleasantly suprised by the fact that Telenor cellphone service and internet worked just about everywhere in Sindh.
I have both Telenor and Mobilink postpaid edge, and the Telenor one is about a million times better.
I'm in rural Sindh right now, near Shikarpur, using telenor edge (through my cellphone to laptop):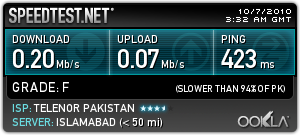 Telenor also works better in Karachi as well, to the extent that I'm now going to switch over to them and drop the mobilink one altogether, as I use more internet than phone calls now.
For Mobilnk results, divide the above by about 5-10 depending on the area, and in many places in Sindh it just doesn't work either. So while empirically Mobilnk is only 5-10 times slower most times, it feels a million times slower. And no, I can't post a Mobilink result even though my other phone is also a modem and active cause the edge network is too slow.
I asked a couple of telco networking guys why such a difference, cause both networks are gsm edge, and the answer was that mobilink has older equipment and their backend internet links have issues, which they don't particularly care about. I assume the other newer Edge networks could be decent as well, but the research I did all pointed to Telenor being Pakistan's best network for Edge.
Some advice: Don't bother buying their 4000Rs usb stick, you can buy a chinese version for a few hundred which is the same. If you're tech savvy enough, don't bother buying a usb altogether and just buy a used nokia, update the firmware and use that as a bluetooth or usb modem. Your existing phone will probably do anyways…
That way you get a much smarter "usb stick", complete with it's own computer and long battery life. You don't even need to install the bloatware piece of crap which is Nokia Ovi suite, just set it up as a generic bluetooth modem. Windows 7 or Ubuntu or Mac just work with one click.
Reasons not to use USB: Millions of people use nokia phones (and others) as modems so the better companies have really sorted out the modem part of their phones. All the usb sticks here have crap drivers which a chinese guy pirated from somewhere and badly ported to his companies usb stick which they never developed in the first place and hence don't even know how it really works. Thus you get crappy speeds which isn't really the telco's fault.
Unlimited, bah! What the heck will you do with a unlimited edge connection? You can sit on it all month and use up hardly a gb or two, and thats if it works well. If you're on mobilnk, which has a unlimited edge for 500Rs, it will be a great acheivement just to hit 100mb in a month. Whichever company you go with, with a edge connection don't even bother looking at the limit becuase its a nonsensical marketing number. Forget about torrents on edge, your usb stick will overheat and melt anyways, and even the nokia phone won't last much longer.
But what about all those corporate blackberry customers so happily using *random* edge: Firstly, they don't know internet speeds even if it came and smacked them on the head, and here I include all the upper levels of all the telco companies I've ever talked to, let alone the other corporate types who use them. The way blackberry works isn't really real time - updates and email slowly wind their way through priority channels to the actual phone, so the user never knows how slowly the damn thing is actually working. Blackberry users don't ever manage to figure out how to use the internet on their phones anyways so they are in no position to judge - it's a bit like asking a caveman about which car to buy.
Latency is more important than speed, on EDGE The latency on edge networks varies tremondously, from as low as 300-400ms to 4000-5000ms. Forget about bandwidth, since it's all low, look at latency. Sadly, hardly anyone in the telco's understands latency so take a nice cartoon diagram of what latency is to explain it in case you need to talk to them. Now if you have a dsl connection which is primarily used for downloading stuff, than bandwidth trumps latency.
Just to not badmouth the Pakistani telco ppl: There are six guys which worked here that understand networking which I know of. Five of them of course got cushy jobs in the western world where technical knowledge is an asset. The sixth I dunno where he is…